About us
We are a group of artists, creators, and friends who, under the name Haa Collective, have decided to explore a transdisciplinary challenge together. Each coming from diverse artistic disciplines, what we have in common is the desire to explore new paths that lead us to break away from established patterns.
Though we are lovers of beauty and depth, we seek to be moved and to transcend mere aesthetic pleasure. We seek to move people emotionally and want the spectator to play an active and living part in our proposal.
The PICADERØ Project is in its first phase of development. The last months have been dedicated to the planning and conceptualization of the project, as well as the design and construction of the mobile structure, the stage object that is part of this investigation. We are currently developing a series of creation residences in France and Spain and in search of support for the total production and dissemination of the project.
Ingrid Esperanza (México – Barcelona)
---
Mexican circus artist, performer, and creator, dedicated to the investigation of movement and the exploration of hybrid languages on the contemporary stage, currently based in Barcelona.
I was born in the southeast of Mexico, my first contact with movement was by means of folk dances and tropical rhythms in the festivities of my hometown. Drawn to the stage, I studied Dramatic Arts in Mexico City. After my first contact with contemporary circus, I began to investigate and pass through different aerial disciplines, which led me to discover "hair hanging" and simultaneously, the blending of stage languages in personal and collective creations like "IMAGA," "Proyecto Otradnoie," and "Páramo Cero," which originated in the underground of Barcelona, proposing hybrids of experimental circus, physical theatre, and performative dance. I have collaborated with diverse companies such as Cirque du Soleil, Animal Religion, Karlik Danza-teatro, Circo Raus, MX Teatro, Eros Ludens, Grupo 55… in Mexico, Spain, Argentina, etc. and have toured across the Americas and Europe.
I have received the recognition of the "UNESCO – Aschberg" Bursary for Performing Arts in 2007, the "Creadores Escénicos" Grant of FONCA, Mexico, in 2010, the Berlinale Grant at the Short Film Festival in 2005, and made the shortlist for Circus Next at the European Platform of Contemporary Circus in 2012.
http://www.ingridesperanza.com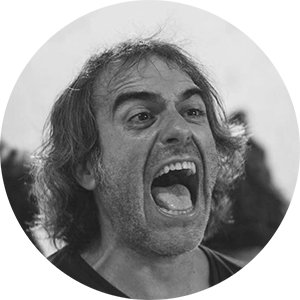 Pau Portabella (Catalunya)
---
Stage director and playwright specialized in creating new tools for scenic presence, circus dramaturgy and creative processes.
I trained as an actor specializing in gesture (mime, clown, gestural comedy, improvisation…) at the theatre school El Timbal. I immediately began working with theatre companies while I continued my studies. I discovered circus at the professional training program of the Rogelio Rivel School in Barcelona, specializing in acrobatic balancing acts as a trio. Together with Oscar Vilas and Marta Torrents, I created the company Triskel, with which we toured around Spain. Keen to discover another way of looking at circus and art in general, I went to France with Marta to train at the circus school Le Lidó in Toulouse. Upon leaving the school, while performing with different companies (Circus Klezmer, Transe Express, Cirk Oblique, etc.), we created our own company, Fet a mà, and two productions "Swap!" and "Cru," with which we toured internationally in Sweden, Finland, England, Croatia, the Czech Republic, etc…
Early on in my artistic career, I became interested in direction, reflection, and study. Since 2015, I have mainly been focused on direction and stage writing, as well as training artists. I have directed and participated in numerous creations since 2015 with companies such as Nuua, Imaga, Nacho Flores Company, Des-equilibrats, el Lado Oscuro de las Flores, Allodeyá, etc…
Jan Benz & Steffen Lohrey (Deutschland)
---
We are a team of composers and sound designers.
We work with a main focus on stage arts and sound installation, we are specialized in the development of creating soundscapes and interactive games with and for the artists and the audience. The intense investigation we practice and the detailed process of establishing a specific concept that is unique to and appropriate for each project we accompany, is the trademark of our work. We currently live and work between Hamburg and Barcelona.
WHAT WE DO: Sound design, Audiobranding, Soundscapes, Foley, SFX, Field recordings, immersive audio for VR Music production, promotion, web, radio, advertising, animation, recording, mixing, mastering, stock music searching, and licenses Composition for the screen, theatre, dance, performance, circus, entertainment, publicity, and digital content installations for the eyes and ears
Betty Cau (Italia)
---
Plastic artist and set designer whose work focuses on interactive stage design and set construction in constant change and adaptation.
I consider change and adaptation to be a source of inspiration in my way of life and in the development of my artistic creations. Drawing and painting have been my passions since I was small, and in the last 20 years, my work has developed in the world of stage arts, alternating between performances and the construction of props and stage sets, as well as personal artistic installations. I am motivated by challenges and unordinary projects, teamwork, and also solo creations. I combine different materials – wood and metal being my favourites – although some ideas come from unpredictable sources, so I always keep my eyes open and am excited by the possibility of experimenting with different materials.
Main companies and projects:
Cie Têtes de Mules (currently + 2017), La Banda de Otro (2015-2016), Xucrut Teatre (2016), F.I.R.A. 19è Circ d'Hivern (2014), "Sota El Llit" (Teatro Nacional de Catalunya 2013), Expo "Press Stop" (Cadaques, 2012) The Twisted Fairground (2009-2011), Circo Wagabundo (2007-2009)
Teresa Valenzuela Moragas (España)
---
My path is oriented towards the art of presence. I define myself as an explorer of bodily intelligence and its potential in communication and modeling.
I am interested in conversations between the body and the environment, differentiating between and integrating the multiple dimensions that shape a person, with emphasis on the physical and energetic body.
Within the institutional framework, I am a graduate of the Contemporary Dance program at the Instituto del Teatro, Social Education at the University of Barcelona, and Direction of Leisure Activities at the Fundación Pere Tarrés. For the last 20 years, I have combined pedagogic and artistic activities with my own investigation and training. I have worked professionally as a choreographer, actor, dancer, and movement assistant in theatrical and visual art works since 1996. Meeting and working with the theatre actor and director Franco di Francescantonio, and training Viewpoints with the director Anne Bogart, stimulated me to take a stand for collective creations and politics within the theatre, the classroom, and in life.
I have been given awards such as "Solo Mio 2001" in France and at choreographic competitions in Madrid and Las Palmas de Gran Canaria. For the last 14 years I have been working in la Escuela Superior de Arte Dramático Eòlia and in the performing arts school Aules. My specific body training includes multiple styles of contemporary dance, contact dance, Viewpoints, Experiential Anatomy, Awareness Through the Body, Seitai, Feldenkrais, Somatics, and Aikido. What stands out in my training are seminars with Jader Tolja, investigator of the relationship between the body, culture, and identity. I take on interdisciplinary artistic or educational projects to give voice to the corporal dimension and continue to enrich my experience.
Federico Brú (Argentina)
---
Costume designer and multidisciplinary artist experienced in the creation of costumes out of organic material.
From 2010 until now I have worked professionally in the costume area and hairdresser with experience in theater, cinema, circus, fashion and concerts.
In cinema and theatre I have participated in commercial and independent productions (nationally and internationally) attending, designing and as a producer.
Among my work experiences, stands out my participation in the film "Zama", by Lucrecia Martel; "Gilda, no me arrepiento de este amor", by Lorena Muñoz and "100 años de perdón", from the Spanish Daniel Calparsoro.
I was nominated for the Teatro del Mundo Award, awarded by the University of Buenos Aires, for the design and production of the costumes for the "Salón de Fiestas", by Emi Pastor.
Since October 2016 until October 2018 I was commissioned by the wardrobe of SEP7IMO Cirque du Soleil DAY, tour of Latin America and South of USA.
The last year I've been studing and experimenting with organic material to create new textures out of that and as an alternative to plastic to implement in my creations.
Joan Lavandeira (Chile)
---
Engineer and visual/sound artist specialised in new technologies.
Born in Santiago de Chile, based in Barcelona. I work fundamentally in the intervention of architecture with sound and visual elements through existing technology (lighting, video and spatialization) that allow us to reflect on space and how we relate to it at a perceptual or sensorial level.
I have worked in the performing arts with international companies such as Tanztheater Wuppertal Pina Bausch (DE), Bejart Ballet de Laussane (CH), Pepping Tom (NL), ITE (NL) among others.
RandomVOLT is a live AV project. Textures based on sampling, field recording, analog and digital synthesizers that reflect on the use of drones, time strechting, modular synthesis, clusters and binaural beats and the resulting sound spaces.
I'm the founder of the creative studio Isolator Space with Magdalena Lanas (ES-DE), collaborator with Chounar (ES) and BeatmeLab (ES), Lichtpfad Studio (DE), Julien Bayle Studio (FR), Jose Jünemann (CL), Yarei Molina ( ES). He is also the boss label of Poststructural- ISM (ES) (2017).
At the level of club-oriented and live performance sound production, it is presented with different monikers: Manuel Thoms (Poststructural-ISM label), Deckard's dreams, FTDI, Tlön / Uqbar and randomVOLT (Pueblo Nuevo Netlabel).
Emiliano Pino (Argentina)
---
My approach to the stage tries to be critical, ironic, perhaps cynical. I am interested in and try to elaborate a language in constant formation, using and relating concepts such as space-matter-body-history-infinite-memory.
I was born in Argentina in 1983, in the city of Rosario. Since my formation in Fine Arts at the university I have been involved in Performance. My interest led me to train in theatre, butoh dance, clown, martial dance to later find and focus my tools and resources of composition. I developed as a personal creation performances like "Cabeza de Pescado/Fisheadman" and "Ridículo".
Music has always been an ally since I was 14 years old until today. I went through various styles, different tastes and forms. I have built instruments; improvisation and de-construction of sound towards noise have taken me the last years of study.
I collaborated and worked in different artistic projects in Argentina. I have also lived in Ecuador, the Andes and the Amazon. Today I live in Catalonia and work in different locations in Europe.
My role in Haa-collective is called "inside hand". I am involved both on stage as a performer and as a musician, as well as in the human pleasure of being part of this team.
Our friends & support