The Project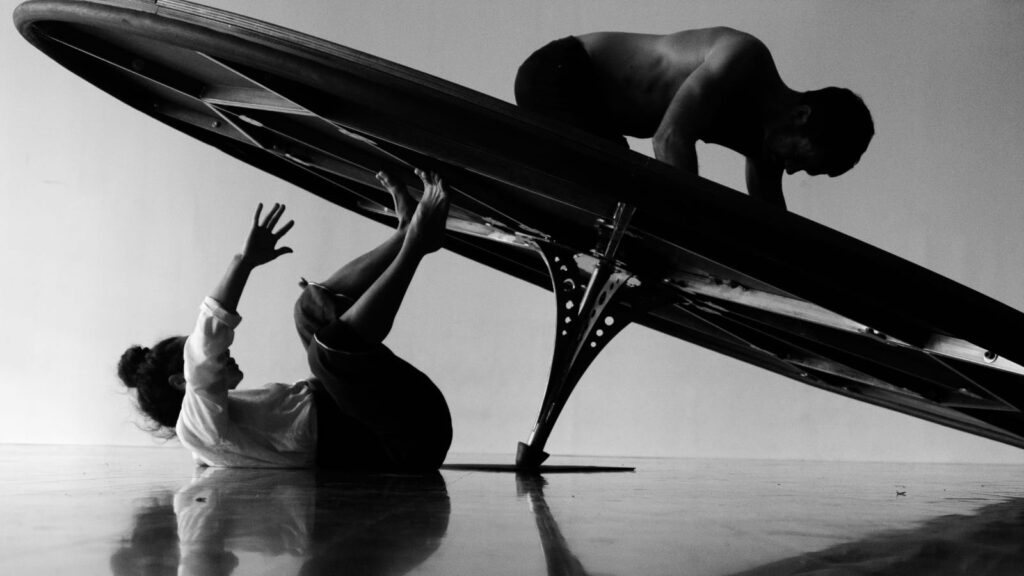 Picadero is a ritual. It celebrates and explores the individual and common origins of the performers and their disciplines. Picaderø reflects the painful acceptance of boundaries and the moments of fleeting freedom within them.
The ritual is shared with the audience in form of a transdisciplinary concert and includes several types of implementation. Body, sound and objects are connected through performance, soundinstallation and mutual manipulation. The collective explores the connection between contemporary circus, new experimental music and interactive sound design and constantly creates new similarities and contrasts.
The central installation object of Picaderø is a mobile stage that can be derived from the shape and movement of a spinning top which is in constant transformation and (de) construction.
Sound artists and performers can influence this basis, interact and communicate through it. It can function as a ludic artifact or act as a metaphor for emotional contexts.
The performance spaces may include multipurpose performance halls, alternative spaces, industrial warehouses, museum spaces, or theatres that can accommodate the audience in a circle or semicircle around the stage space. Alternatively, it may be a stage with the audience facing each other on either side of it, as long as it remains intimate.
The intention is that picaderø can be presented in two different formats:
1. A contemporary circus piece where three fields come together: installation, sound and performance.
This format is designed for a living arts circuit, European and the international market, we are especially interested in organizing a tour in México in 2020.
2. Also as a live installation where the audience and performers can interact with some unusual instruments and a live sound lab.
This format belongs in a circuit of museums, art galleries or alternative spaces.